READY TO BUY?
So you have decided that you are ready to purchase or adopt a Whippet? Congratulations, you are about to embark on the greatest adventure of your life. Below you will find a few suggestions that will help you in your search for the perfect addition to your family.

First, don't purchase the first Whippet you find. You may decide eventually that the first one you found is the right one for you, but shop around and talk with as many breeders as you can find. There are many things to consider when adding your Whippet and money should be the last of your considerations in this decision. Make sure that the breeder you would like to purchase from is accessible via phone or email whenever you have a question. Inevitably you'll have a number of questions after you purchase your puppy, and a good breeder will be there for you before, as well as, AFTER the sale.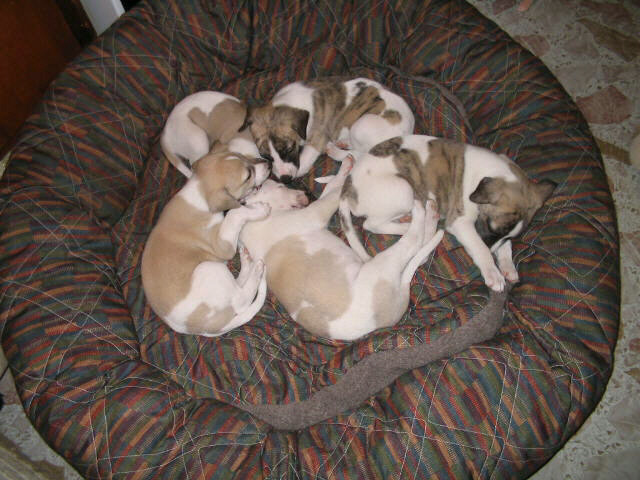 As a rule of thumb, from the time you begin your search until you have a puppy in your hands will be approximately 4-6 months. Important considerations in your search are health, socialization, geographical location, and breeder experience. Don't be afraid to ask for referrals from a particular breeder. Sometimes you will find a puppy quickly, but it is recommended to talk to as many breeders as you can before making any decisions. Once you have narrowed down your search to one particular breeder, inquire about putting down a deposit to get on their waiting list for their next litter. This 4-6 month period will give you time to ask and get answers to your questions, and will give the breeder a chance to get to know you better and assess which puppy would be the best fit for you based on temperament.

Now for the hard part... THE WAIT. Having patience is one of the most difficult things when anticipating your new arrival, but while waiting, take the opportunity to read, read, and read anything you can get your hands on that pertains to Whippets. This breed is nature's best kept secret, but not for everyone. It is your responsibility during this waiting period to reaffirm that the Whippet breed is the right choice for you, and if you change your mind, the breeder will generally be glad to remove your name from their waiting list, and refund any deposits you have made, provided you notify them before the birth of their litter or shortly thereafter. Quality breeders want you to be happy with your new puppy, and want to insure that the puppy will be a permanent member of your family.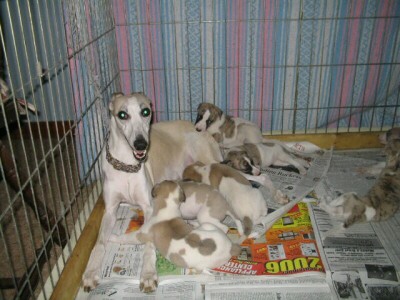 When the time comes for your puppy to join your family, be certain that you understand fully the terms of your purchase contract and guarantee. If you have any questions, you will need to address them before you pick up your puppy. Remember that once you have signed the contract, that the terms are binding to the extent of the law in your jurisdiction, so please read every word carefully. If you are uncomfortable with the terms of the contract, and you and the breeder can not come to a mutually agreeable middle ground, THEN WALK AWAY. As breeders, we like to think of our families as friends, and many a friendship has been ruined due to misunderstandings over contractual agreements.

All reputable breeders will supply you with health records for your puppy, registration papers (or written clause in the contract regarding when papers will be supplied), pedigree, and a guarantee that covers the puppies health for a certain period of time. You should be aware that it is illegal for puppies to cross state lines for the purpose of sale, before 8 weeks of age, so if your breeder in encouraging you to take a puppy at less than 8 weeks of age, you should question their reasoning.